Watering Your Lawn in the Denver Metro Area
By Barbara Powell
What is Proper Watering?
How much do you need to water your lawn in Denver? Watering your lawn correctly will help keep it looking fantastic while saving you money and time.
Most lawn owners in the Denver or Littleton areas in Colorado have sprinkler systems. Sprinkler system companies often lead you to believe that you must water every day.
But watering too little too often can waste water and does not provide what the grass needs most: Water that is allowed to travel further into the soil to create a deeper root system. This gives you a more resilient lawn that will better survive drought and is healthy enough to have a chance against lawn pests that might try to take up residence there.
It is also important to allow the soil to dry out before watering again. This aids in growing a deeper root base.
In fact, according to Denver Water, which services 1.4 million customers in the Denver metro area, residents are not allowed to water more than three times a week; or between the hours of 10 am and 6 pm. More information on watering restrictions can be found here.
Best Recommendations:
Twice a week watering is usually enough, except when the weather is particularly dry and hot, in which case you may want to add the third watering.
It is recommended that lawns in the Denver area get about 1 to 1.5 inches of water per week. You can easily test your sprinkler system for the amount of water it is providing by using a rain gauge (most hardware or garden centers have these) or you can use an empty tuna can to estimate ½ to 1 inch of water.
Place the rain gauge or cans on various parts of your lawn to see if coverage is even and whether your current settings are working to give your lawn the proper amount of water.
This rain gauge is $1.98 at Home Depot: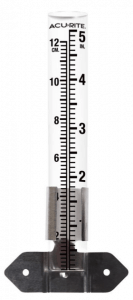 The chart below provides guidelines for watering times depending on the type of sprinkler heads you have and the months of the year. Your actual time will vary based on your landscape. Don't hesitate to take into consideration the parts of your lawn are low-lying (will hold more water), sunny or shady. Set each zone to provide the optimum amount of water for each area of your lawn.
ALWAYS check your sprinkler heads after mowing, and have your system audited by professionals if you have issues. Taking the time to make sure sprinklers are working optimally is vital if you want the best-looking lawn with the least amount of wasted water.
Denver Water recommends using the "cycle and soak" method for irrigating your lawn. For example, if you have a zone you want to water for 14 minutes, start by irrigating for 7 minutes, then move to another zone. Finish the second 7 minutes after the water has had a chance to soak deep into the soil. Depending on the size of your lawn, the two start times can be up to an hour apart.
This method helps create a deeper root system, which is an important factor for healthy, resilient grass. If you have sloping areas or hills, water for even shorter cycles, so that the water can soak in before it runs off.
Most soils in Denver can absorb about ½ inch of water per hour. Faster watering causes the water to run off and be wasted.
Watering
Months
Minutes to water per zone (for lawns, based on three days per week*)

Fixed spray heads

Rotor heads

Rotary/high-efficiency nozzles†

Manual sprinklers

January – April

Water trees and shrubs as needed.

May

12

24

30

18

June

17

35

43

26

July

18

36

45

27

August

14

27

34

20

September

11

23

28

17

October – December

Water trees and shrubs as needed.
Source: Denver Water denverwater.org
Is it better to water in the evening or morning?
First, there are rules against watering during the hottest parts of the day (considered 10 am to 6 pm in the Denver area) because the water will evaporate too quickly, and again this is not good for your lawn or your water bill. That leaves us with either the morning or the evening.
Watering in the evening can allow water to sit too long on the lawn and invite diseases. The optimal time to water is early in the morning, within a couple hours of dawn. The water has an opportunity to soak into the soil before the sun dries it, but not so long that it invites molds and fungi.
What about after aeration and seeding?
Take good care of your lawn after aeration and seeding. New growth needs water to take root and become hearty and resilient. This usually takes about 6-9 months. Aerating and seeding at the same time is optimal, and be sure to water right afterwards to give your lawn the best chance of benefiting from these services.
With all of this in mind, the most important rule is to pay attention. Some soils (clay) tend to soak up water more slowly than others (sandy soils), for example. Try sticking a screwdriver into the soil to check whether the soil is too compacted or dry. Footprints or wheel marks in the lawn that do not "spring back" within 30 minutes or so also indicate that the grass may be thirsty. Adjust watering accordingly.
Irrigation correctly, in combination with aeration, seeding and fertilizing, are the keys to maintaining a lush, beautiful lawn.
---
At Erbert Lawns we provide lawn care services in the Denver metro area including the following suburbs:  Littleton, Roxborough, Castle Rock, Highlands Ranch, Englewood, Centennial, Parker, Aurora, Commerce City, and Thornton Colorado.  We offer the following lawn services:  Fertilization and Weed Control, Aeration, Weed Kill in the Rock & Mulch Beds, Aeration with Over Seeding, Revive, Lawn Disease Treatments, Perimeter Pest Control and Winter Mite Treatments.
Want to see about how much it cost to have professional lawn care for you home?  Just click on the link below.